Reasons To Choose A Professional Office Furniture Removalists In Adelaide
Office furniture plays a pivotal role in making and breaking your overall appearance in the market. Therefore, a lot of people in Adelaide are hiring professionals for redecorating their buildings. As a result, they need a professional team for moving the old furniture and inserting the new items. After all, you would not want to put your hand in lifting that heavy furniture all by yourself?
Moreover, there is no guarantee that there will be no damage in the moving process. After all, you don't have any prior experience in handling office furniture. That is why hiring an efficient team for furniture movers is significant for office relocation. If you have an office in Adelaide, our Office Furniture Removalists Adelaide will be your best solution. We have everything needed for a full-proof office furniture packing and moving service.
Furniture Movers Adelaide has the best furniture movers in these surrounding areas. Not just the best experts, you will get all the latest technologies and machines for providing a top-notch quality service. So rest assured and avail of the best experts for taking care of your office furniture in Adelaide.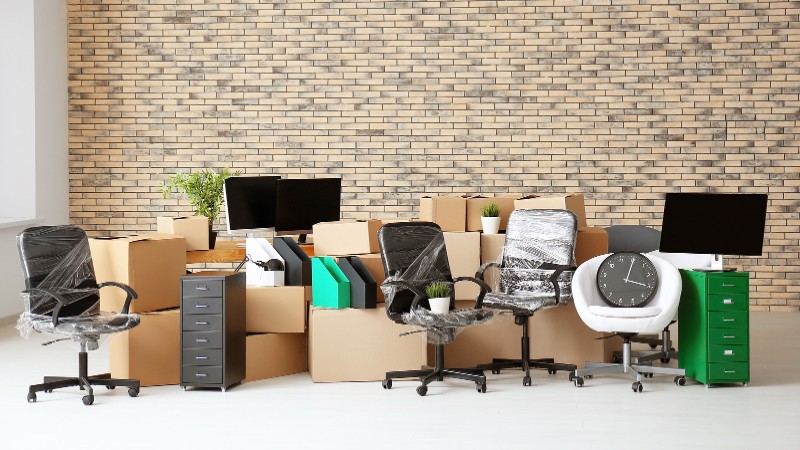 Perks Of Choosing Our Team Of Office Furniture Removalists Adelaide
Relocating a running office is quite a tough job. You get all of your furniture taken away from the promises. Yet, you have to go through the daily official activities. Doesn't it sound tiring? So, get help from our Office Furniture Removalists Adelaide team and keep going with your office chores.
Intercity Office Furniture Relocation
Are you going to move your office a few blocks away from the current one? In that case, you need local office furniture packers and movers to take care of that. Often people move their office in running condition. So the market impact is less on the company.
Therefore, hire our experts for the intercity office furniture relocation in Adelaide. We have the best knowledge and experience of moving the furniture without disturbing your official activities. If needed, we are available during the off hours as well.
Interstate Office Furniture Relocation
When it comes to moving your office furniture away from Adelaide, our team will be the best solution for you. We pack each of your furniture with utmost care. Our packing materials are also of top-notch quality. So, you can expect your office couch to be as it was. During the interstate shipments, we keep tracks of all of the packages. Therefore, you will get notifications of everything. You can also track your shipments and take deliveries according to your time.
Packing And Unpacking Of Office Furniture
Packing and unpacking of items are crucial for us. After all, it builds trust between you and us. So, we wrap your office belongings in the best quality packing materials and protective layers. Moreover, we deliver your items through our delivery system accompanied by our experts.
Moreover, upon delivery, we unpack everything in front of you. So you can check and arrange your furniture according to your requirement.
Apart from all these facilities, Furniture Moving Adelaide is ready to customize your Office Furniture Removalists Adelaide services. So, get in touch with our service provider and choose your plan accordingly.
Office Furniture Removalists Adelaide
Call us on 0492 800 028 Office Furniture Removalists Adelaide
Location: Adelaide, SA, Australia